Guardio®, ecg app to foster faster diagnoses
The Guardio®-App enables patients to record electrocardiograms (ECGs) by simply placing your smartphone on your chest. No need for an expert, since Guardio is super easy to use.
The diagnosis of cardiac diseases can be very difficult. Especially intermittend rhythm disorders can remain undiagnosed for a long time and pose a burden on patients, both physiogically and psychologicially.
According to domain experts, usually more than 10 years pass until a final diagnosis is made and a specific treatment can be started⁴. This increases the risk for secondary diseases. In case of atrial fibrillation, the risk for having a stroke increases with every year without treatment, which poses the patient at a high risk.
people per year die of cardiac diseases, according to the WHO¹
of all people from the age of 40 years suffer from atrial fibrillation (a major cause of stroke)²
of all strokes are caused by atrial fibrillation³
usually pass between the first consultation of a physician and the final diagnosis⁴
The golden standard of non-imaging cardiac diagnostics is the so-called electrocardiogram (ECG). In this approach, electrodes are placed on the chest of the patient in order to record the electric potentials of the heart. These signals provide insights with regard to the current health of the heart and help to identify diseases (e.g., rhythm disorders).
The process of recording an ECG is inconvenient for the patient, since the removal of electrodes is often painful an can lead to skin irritation. The electrodes can also cause rashes or allergic reactions. In addition to this, the connected cables can disturb the night sleep.
Studies show that the recognition of intermittent rhythm disorders with current ECG technologies can be difficult. In case of paroxysmal atrial fibrillation, the recognition rate during a 24-hour-ECG is about 4.8%⁶. In case of a 7-day-ECG, the recognition rate increases to 12.5%⁶. These data show a massive diagnostic gap. This effect is even amplified because consultations of medical experts are rare.
is the usual time patients in Germany have to wait for appointments at a cardiologist⁵
is the recognition rate for atrial fibrillation in 24-hour-ECGs⁶
is the recognition rate for atrial fibrillation in 7-day-ECGs⁶
of detected rhythm disorders are incidental findings⁷
¹ WHO, 2019 - https://www.who.int/news-room/fact-sheets/detail/cardiovascular-diseases-(cvds)
² Fuster V, Rydén LE, Cannom DS et al. Circulation 2006; 114:e257-e354
³ Ntaios G., Papavasileiou V., Diener H. C., Makaritsis K., Michel P.: Nonvitamin-k-antagonist oral anticoagulants in patients with atrial fibrillation and previous stroke or transient ischemic attack: a systematic review and meta-analysis of randomized controlled trials. Stroke 2012; 43: 3298–304
⁴ Lauschke, J., Schneider, J., Schneider, R., Nesselmann, C., Tischer, T., Glass, A., & Bänsch, D. (2015). Electrophysiological studies in patients with paroxysmal supraventricular tachycardias but no electrocardiogram documentation: findings from a prospective registry. EP Europace, 17(5), 801-806.
⁵ Ärzteblatt, 2011 -  https://www.aerzteblatt.de/nachrichten/46656/AOK-Studie-wirft-Aerzten-Benachteiligung-von-Kassenpatienten-vor
⁶ Stahrenberg, et al. Enhanced detection of paroxysmal atrial fibrillation by early and prolonged continuous holter monitoring in patients with cerebral ischemia presenting in sinus rhythm. Stroke, 41(12), 2884–2888.
⁷ DGK Herztage Berlin, 2019 – https://dgk.org/pressemitteilungen/dgk-herztage-2019/nutzen-und-effizienz-von-implantierbaren-ereignisrekordern-im-klinischen-alltag/
NO ELECTRODES, NO PROBLEM
The Guardio® app is a simple and convenient solution for recording multichannel ECGs without using electrodes. For this purpose, we utilize the acceleration sensor of your smartphone. This sensor is usually applied in tasks such as counting steps or switching the display orientation from portrait to landscape mode.
Guardio® utilizes the acceleration sensor of your smartphone for recording the motions of your heart, yielding so-called seismocardiograms. These motions involve information about the health of your heart, including tiny motions such as the opening and closing of the heart valves. Our Heart.AI engine (patent pending) is based on an artificial intelligence and transforms the complex motions into electric potentials of your heart – the established electrocardiogram (ECG). This is achieved by simply placing your smartphone on your chest. The measurement can also be performed through clothes, since a direct skin contact is not necessary.
Guardio® offers many advantages in comparison to current solutions:
multichannel ECG for increased diagnostic value
no extra hardware needed
no direct skin contact needed
no electrodes needed
no painful removal of electrodes
no specific expertise needed for performing measurements
no skin irritation
no allergic reactions
no infections
SIMPLICITY IS THE ULTIMATE SOPHISTICATION
Guardio® records multichannel ECGs without expensive extra hardware – you are simply using your own smartphone.
The recording is initiated by starting a measurement within the app. You simply place the device on your chest. The recording starts as soon as you are resting. In case the device is placed incorrectly, the Guardio® app provides a feedback and actively helps you to find the optimal position.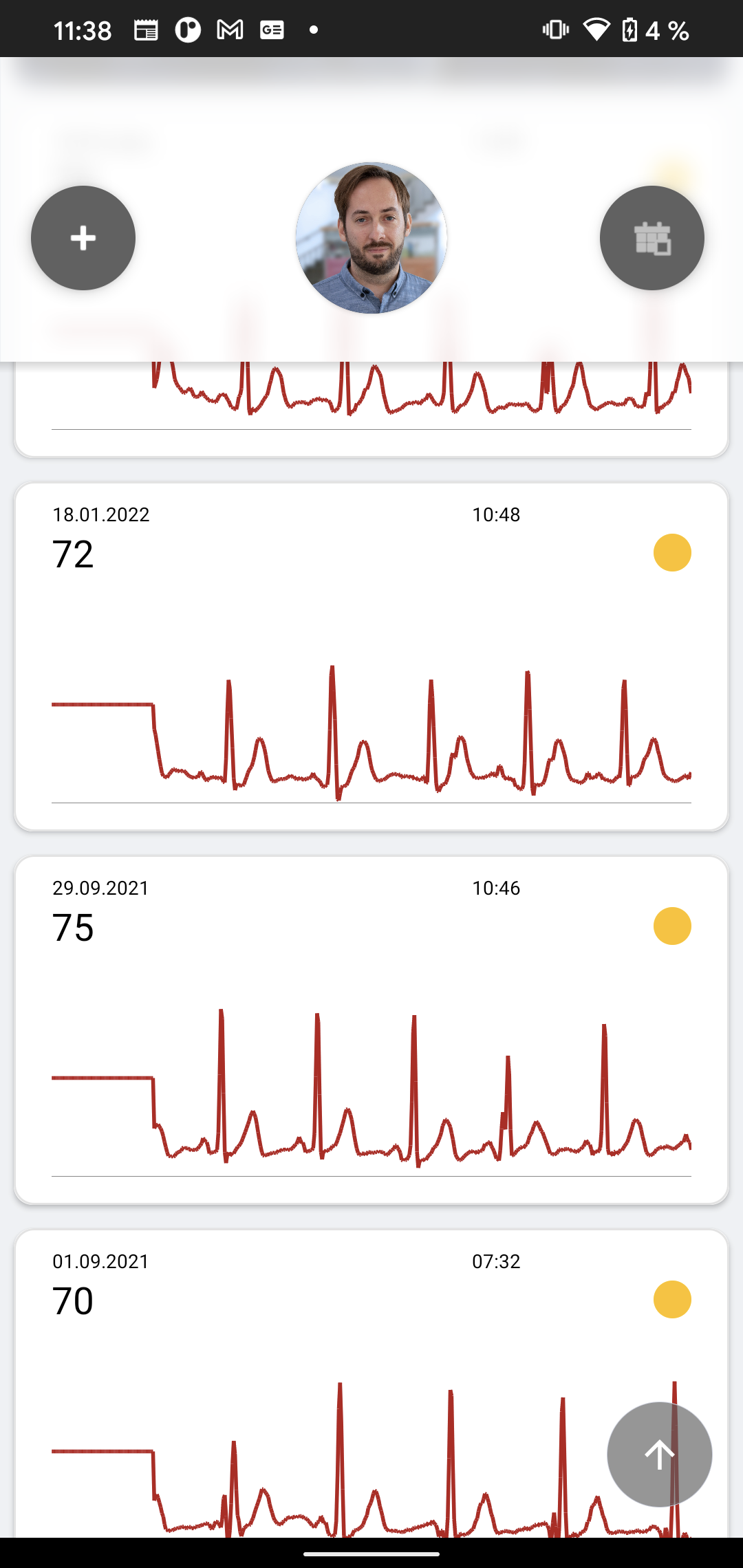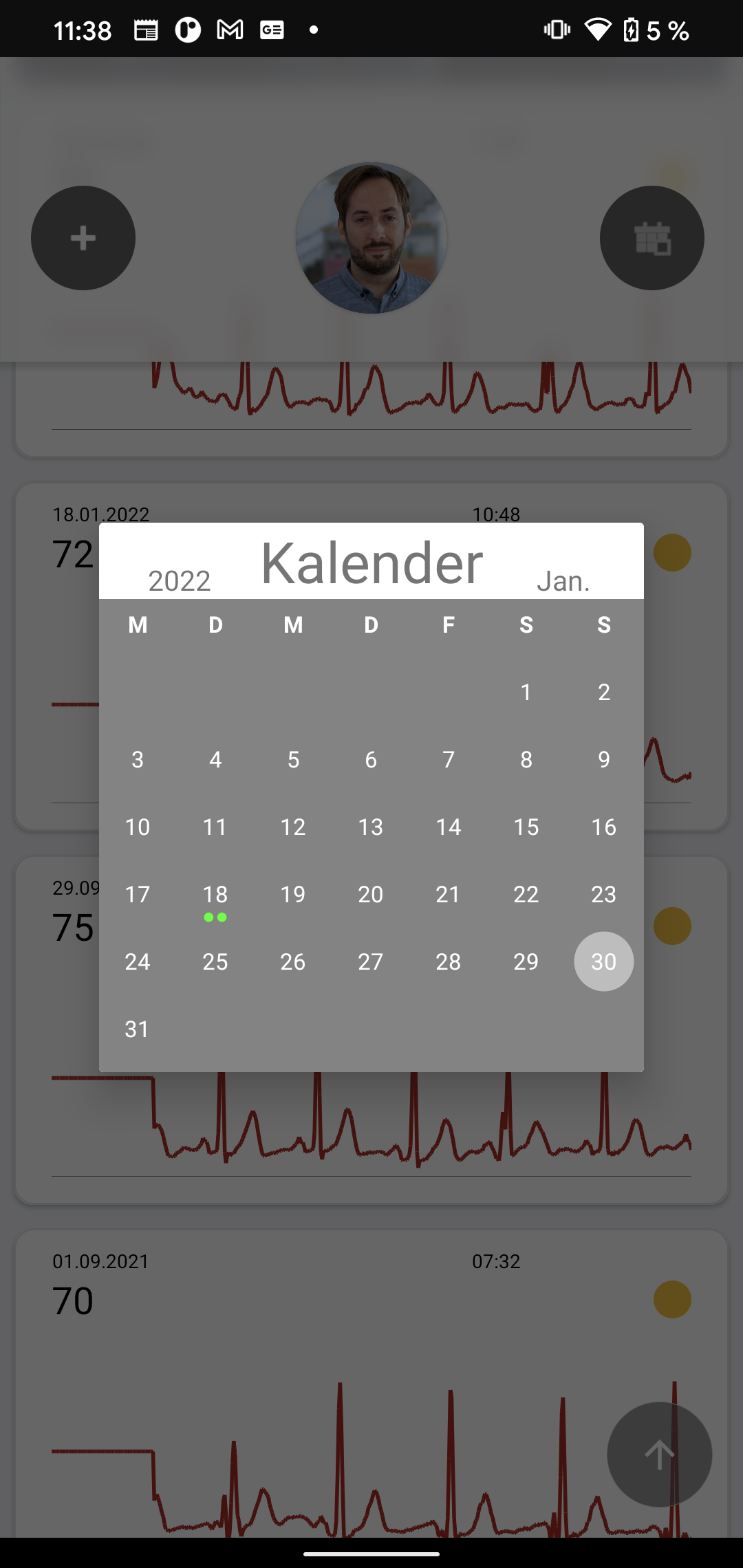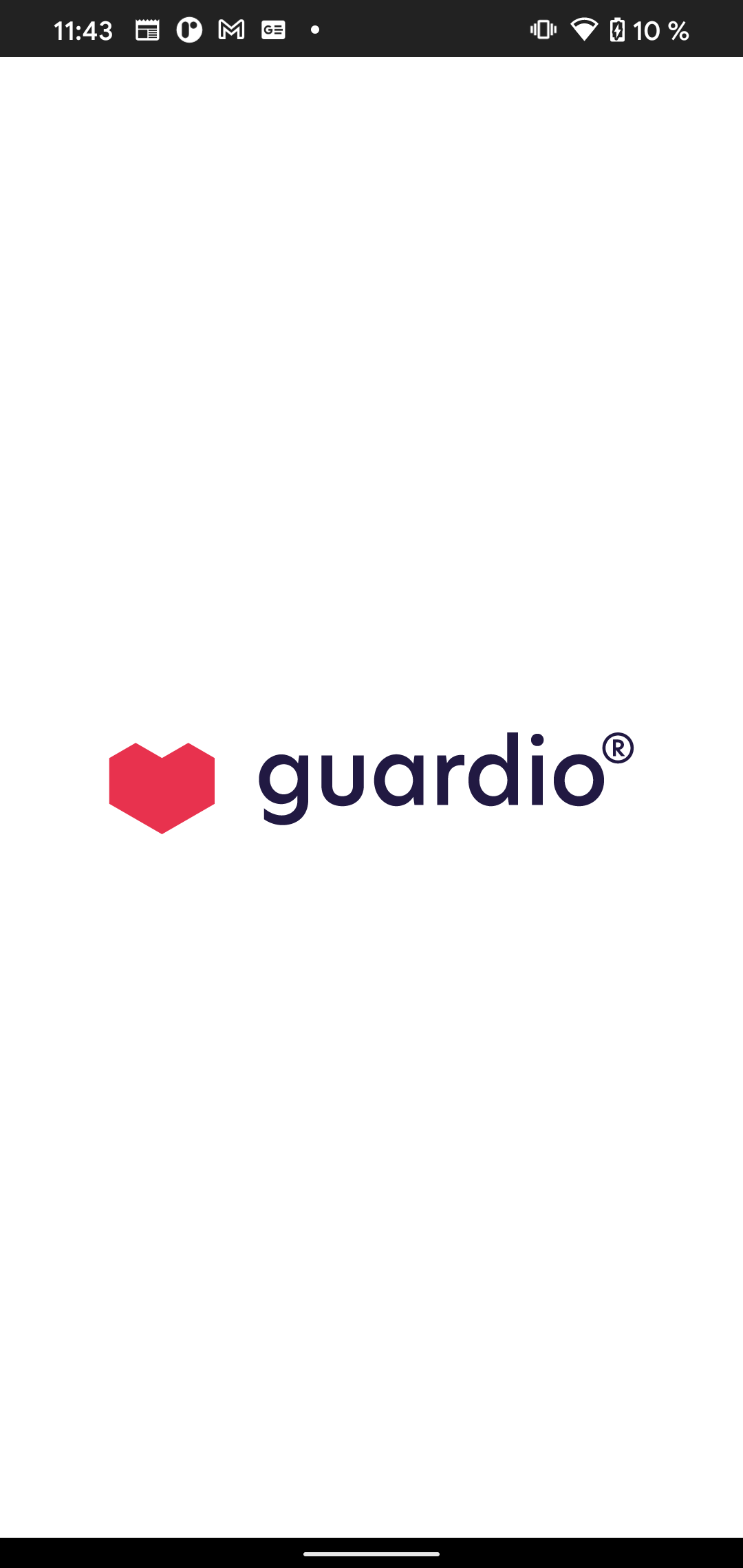 Save as many recordings as you like without losing track! The calendar helps you to search for measurements directly. The card view shows a preview of the recording and provides relevant parameters (e.g., heart rate).
We develop Guardio® with the goal to provide as many patients as possible with the app. Thus, we want to register Guardio® as a digital health application (DIGA) in Germany. We work hard to reach this goal as soon as possible.
As soon as Guardio® is a registered DIGA, your physician can prescribe the app to you. This way, your doctor can help you to close the diagnostic gap by recording ECGs. The cost of the prescription is covered by your insurance company.